UNM is a great story that will never be completely told.
Welcome to the University Communications and Marketing (UCAM) website. We invite you to explore and learn more about our services and projects, which promote the University of New Mexico and its programs.
UCAM is the primary source for accurate and current information about the University of New Mexico. The office advances UNM's position as the state's flagship university and a leader in higher education by promoting the University's people, programs, and educational philosophy, and by publicizing its achievements and resources to a wide array of internal and external audiences. Our professional staff works with external news organizations, produces a range of marketing materials, and creates and maintains a strategic web presence and multimedia content to ensure clear, concise communication of ideas and initiatives.
At UCAM, we work hard to showcase UNM's extraordinary accomplishments, as well as to build national and international awareness of the university. Our team of talented communication, marketing, and web professionals welcomes the opportunity to collaborate with you. Together, we will work to take your program and UNM to new heights of success. Thank you for visiting. We hope to work with you soon!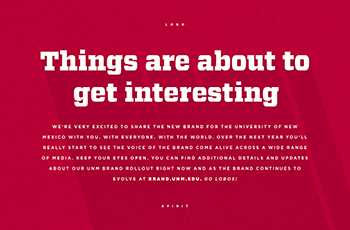 UNM Brand Style Guide
Our brand is more than a logo or a color palette. It's the collection of experiences that people
associate with UNM. It's the voice and tone we use to tell our
story. It's the images and colors we use to communicate to our
audiences. It's the campus, our community, and our passion. Used
properly, the UNM Brand Style Guide will help maintain graphic and
message continuity, protect our logos, and help us build our brand
across a wide spectrum of media.