UNM Identity Standards
The identity standards have been developed to ensure the consistent use of the University's logo and other graphics in the media, on our stationery and in publications.
UNM Identity Program
The official University logos serve the same purpose as a trademark — to build visual identity in the minds of constituents through a uniform and recurrent presentation. Members of the UNM family — faculty, staff and students — are welcome to download the graphic symbols for official University applications. Display the logos prominently on promotional materials, including printed works (brochures, booklets, newsletters, advertisements, etc.) and electronic media (web pages, videotapes, CD-ROMs, etc.). The symbols give proprietary identification to The University of New Mexico. They are restricted to use by recognized entities of the University.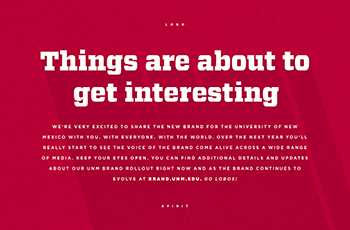 UNM Brand Style Guide
Our brand is more than a logo or a color palette. It's the collection of experiences that people
associate with UNM. It's the voice and tone we use to tell our
story. It's the images and colors we use to communicate to our
audiences. It's the campus, our community, and our passion. Used
properly, the UNM Brand Style Guide will help maintain graphic and
message continuity, protect our logos, and help us build our brand
across a wide spectrum of media.